How lack of proper communication creates an insecurity in marriage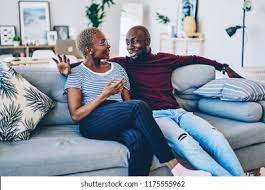 Today, many marriages are found to be ending in divorce.
Marriage is the beginning of a life-long relationship, while divorce is an end. After the passing of few days, months or years of married life, some conflicts and bitterness may arise in your relationship and, you might begin to think about a divorce.
Divorce was almost unheard of among couples some 50 to 40 years back in most parts of Africa , especially in Nigeria . In the 50s, 60s and the 70s, the sanctity of the institution of marriage had not been corrupted; it was still very much intact and respected as a sacred institution. If a couple got married then, it was for better, for worse, till death did them part. Marriage was a worthwhile venture then, especially in Africa.
However, with the advent of the Western culture, the marital institution began to suffer setbacks. Pressures of life and the western way of life, made divorce a hitherto foreign word in the lexicon of couples. Such word was a taboo in dome communities in Nigeria…
The Economist has published a report by The National Bureau of Statistics which states that divorce is a rare phenomenon in Nigeria with only 0.2% of men and 0.3% of women deciding to end their union and 1% recognizing as being separated.
A lot of men win the hearts of their ladies through lies and deceit that makes them also to pitch high expectation and is common to see a man making unachievable promises to a lady in the quest of wanting to marry her.
A lady once told me her husband promised to take her to Dubai for shopping after their marriage and he will also set a very big retail shop for her with workers around her, so this lady will expect all these promises to be fulfilled right after the marriage and if it turns out to be a lie, you can imagine where that marriage will be heading to.
This is common of men, instead of being real and communicate our true feelings and intent to our partners, we turn to swagger with our proposal; there is nothing like swaggering in marital home, after all you have nothing to hide again when both of you share one roof. It is better to win the heart of a woman with your true nature than using cosmetic means. Fake things don't last and therefore if you happen to be a bachelor or a spinster, you go clean and honest when you are about to choose a partner for marriage.
Maintaining a strong connection through open communication keeps the bond of love strong in a marriage. Lack of communication can cause two people to drift apart and to feel like they are just going through the motions in a marriage. Many relationships failed because of poor communication. Many couples find it hard to express how they feel for each other. They don't know how to verbalize their needs and they don't know how to listen carefully. If you are one of those people, then it might be time to read some tips for an effective communication.
Lack of proper communication creates insecurity in marriage. For instance, marriages that hit rocks always start from negligence of good communication and the consequence of this gives birth to other factors that slowly usher the marriage onto the path of divorce.
Separation or divorce of parents has, had an effect on lots of children. It may give rise to psychological problems which can affect the tender minds of children as they need both the parents equally. The children may get mentally and physically disturbed and feel insecure due to which their future may be spoiled. Looking towards these effects, you should strive to save your marriage and stop thinking of a divorce .
Honestly, it is not always an easy endeavor to keep your relationships alive, but you can, for that, you will have to make some effort. If you strongly wish to save your marriage from divorce, you should try to improve yourself. Some possible factors that can affect your marriage relationship are the broken trust, boredom, infidelity, poor communication, addictive behavior, emotional abuse, absence of sex and affection and lack of appreciation.
The main reason for divorce is a lack of understanding and compromises. Hence, you should give away your ego to maintain the healthy relationships and should take an initiative to resolve any problems in your married life and avoid divorce at all cost.