Towards Achieving Flood Free Lagos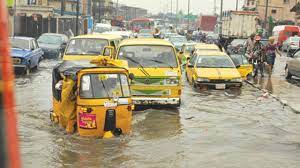 In Lagos, the rainy season could be dreadful. Being an island surrounded by various sizes of water bodies, from Lagos lagoon to different beaches scattered around the state, Lagos' peculiar geographical status has far-reaching flooding implications on the metropolis. Its topography, which makes it essentially low lying terrain up to 0.4 per cent below the sea level, is another critical issue. Naturally, this brings about a huge flooding challenge.
However, in as much as flooding is natural phenomenon, some human activities aggravate it. The common practice of building houses near rivers and other bodies of water (that is, within natural floodplains) has contributed to the disastrous consequences of floods.
In Lagos State, the building of houses near rivers and beaches is fast becoming a fad among the elite. These edifices usually come in the way of free flow of water whenever there are downpours. Also, the houses often come with poor drainage channels connecting them to the bigger canals and water channels.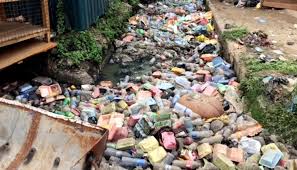 Similarly, poor and nonchalant waste disposal habit is major cause of flooding in the state. It is common sigh to see people empty huge sacks of refuse in the drainage whenever it rains. In addition, commuters in both private and commercial vehicles have formed the habit of throwing papers and sundry waste products through the windows of moving vehicles; this garbage ends up in gutters and other drainage channels after being blown away by the wind.
The menace of flooding has rendered many people homeless, while not a few landlords have been stripped of their only investments. Invariably, this has contributed immensely to the upsurge in the level of social problems in the society.
There is an increase in the army of homeless, which has resulted in overcrowding in houses, all in attempts to play good neighbours and take these people in. Also it is not uncommon to see some senior citizens begging for alms to keep bodies and souls together, when their only investments have been destroyed by flooding. Infrastructure such as roads are not spared as a result of this menace of flooding. Many roads have been destroyed and affected communities cut off from the rest of state. This has affected economic, academic and social activities in these communities.
As the rainy season continues, all hands must be on deck to ensure that all humanly induced actions that promote flooding are discontinued.
More so, people should be enlightened about the enormity of the danger posed by flooding and need to stop every human induced action that results in flooding.
Importance of sensitizing government at all levels on the reality of climate change and on possible risk reduction strategies is crucial in preventing flood menace in Nigeria. The need for an effective community based early warning system for flood prevention and control for Nigeria cannot be over emphasized.
Government at all levels need to shift from being reactive to being proactive in responding to flood menace. There is also the need for government at all levels and its agencies to fund and map out contingency plans and emergency preparedness plans to prevent flood outbreaks crisis in Nigeria.
Written by Adeogun J. Kayode. Kayode is a Certified Content Marketing Strategist, Journalist, Communications and  Leadership Coach with over 15 years working experience with individuals and various organizations in Nigeria and across the world. He is also an author of ten books on school leadership, new media, digital marketing, public speaking, freelance writing and entrepreneurship.